- Sun Aug 13, 2017 7:22 am
#516787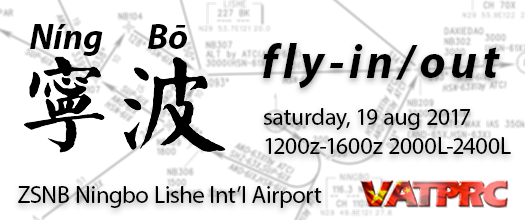 As the summer nears its end, VATPRC would like to invite you to Ningbo Lishe International Airport, the third busiest airport in Zhejiang Province, China! In real life, not only are there airliners from many major airlines of China, but also such rarer sights as New Gen Airways of Thailand, A320neos from China Southern, Boeing 777 Freighters from China Cargo Airlines aka "Cargo King" shipping fresh American cherries, and even the Honeywell Engine and Technology Demonstrator 757-200 in early July.
In this event, you are encouraged to fly in/out of Ningbo airport with your favorite type of aircraft. See you on the scope!
Time
Saturday, 19 Aug 2017 1200-1600 UTC / 2000-2400 CST (UTC+8)
Airport
Ningbo Lishe International Airport (ZSNB)
Recommended Scenery
[FS2004-PAYWARE]
[FSX/P3D-PAYWARE]
VATPRC 有你更精彩
You make the difference!