- Sat Jun 09, 2018 8:52 pm
#524747
Hi all,
Belux vACC has recently opened up a (public) discord server, feel free to join and hang around with the controllers and pilots.
This is a public discord so everyone can join (flightsim related of course).
Event notices, livestream notices and other features can be found in the discord, it's also the best way to reach out to the controllers if you have any questions.
See you soon!
Invite link:
https://discord.gg/RmhpjsW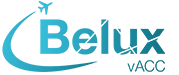 Luka Stevens
Belux vACC Event and social media coordinator (ACCBE4)
[email protected]